Launch Your Online Store With Builderfly- An All-Inclusive Ecommerce Platform
Considering the change in the industry dynamics, ecommerce is the best way to adapt to the new normal & take your business to the next level. Builderfly, with its determination to take offline businesses online, is conducting its next webinar on 11th July 2020, at 5 PM (IST). In this session, the technical experts will show you the procedure to save all your efforts & launch your business by selecting the best business plan.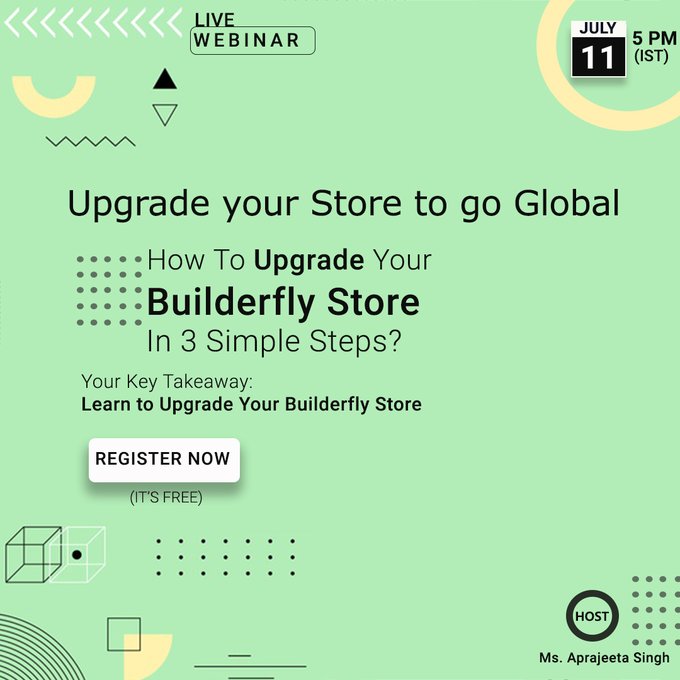 Every ecommerce enthusiast who plans to launch their online store can leverage this opportunity to gain an understanding of store up-gradation. If you have already started building a store with Builderfly, this is a fantastic opportunity to get your queries answered in the live question-answer session that will be conducted post-webinar.
Key takeaways:
Selection of the Builderfly plan
Upgrading your store
Once you upgrade your store with Builderfly's suitable business plan, you will get full access to your store, and you can make it live anytime you want.
About Builderfly
Builderfly is an all-inclusive ecommerce platform that will help you take your business online or create one from scratch. We will arm you with a DIY online store builder and mobile app builder; you can design your store & create your native mobile app on your own. Add the personal touch of your brand by customizing it to every possible extent.
In addition to the web presence, you can launch your m-commerce app on Google Play store and App-store to grab your mobile users. You will be guarded with AI-powered mobile apps that will amplify your sales.
Builderfly has a variety of business plans for all sizes of businesses. The Builderfly Startup plan and standard plan are genuinely the blessings for startups.
To connect with us directly
Drop us a mail at press@builderfly.com
You can make Telephonic Inquiry at Toll Free: 1877-327-6143 (USA) | 1800-123-2403 (IN)
Connect With Us on Our Social Handles
Facebook: https://www.facebook.com/BuilderflyEcommercePlatform/
LinkedIn: https://www.linkedin.com/company/builderfly
Twitter: https://twitter.com/Builderfly
Instagram: https://www.instagram.com/builderflyecommerceplatform/
Pinterest: https://www.pinterest.com/builderfly/